​
Diversity is only half the answer – Creating more
Inclusive
work environments
DIVERSITY

is who we are and how we experience the world –

INCLUSION

is how we come together and how individuals are treated in any given group.
Where diversity is a fact; inclusion is a choice that is made on a daily basis – this is often the reason why it is so difficult to get the inclusion piece right, resulting in inclusion often being the missing link in the D&I equation.
As part of our Parity Plus value-add initiative in 2018, Parity Consulting hosted its Annual HR Roundtable Breakfast for our HR and Talent partners, welcoming guest speaker Edyta Torpy to the stage! Edyta is a Diversity & Inclusion thought leader and specialist with over 20 years' experience in assisting managers, teams and organisations getting the D&I equation right! For our annual event, Edyta explained why diversity is only half the answer; highlighting case studies and ways in which we can all create more inclusive work environments.
When we put it in simple terms, Diversity is who we are and how we experience the world. Inclusion is how we come together and how individuals are treated in any given group. When organisations are both diverse and inclusive, the following positive business outcomes can be realised:
​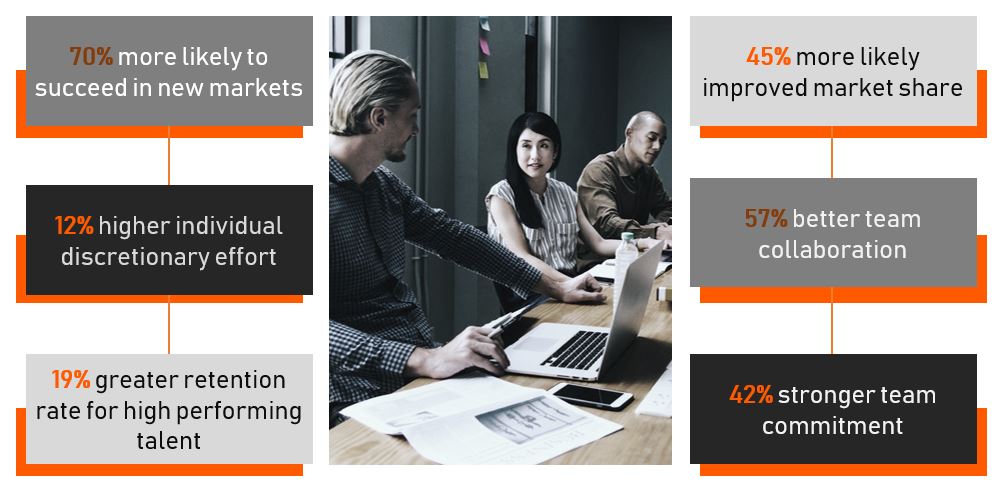 We all know that teams make better decisions than individuals; but the real magic occurs and benefits are realised when you bring groups of different types of individuals together. The below diagram illustrates that when diversity in teams increases, so does better decision making.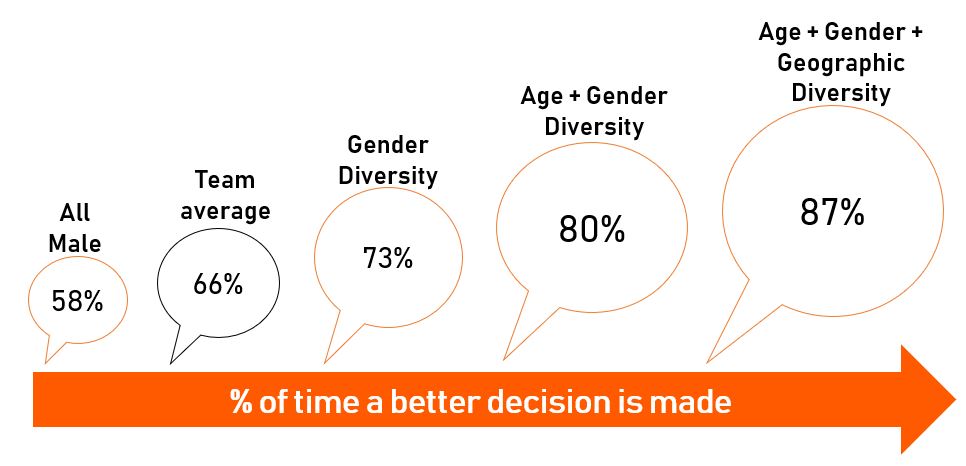 ​
What's more important than successfully creating diverse teams and inclusive environments? An inclusive leader!
An inclusive leader is at the core of every successful team – they seek out diversity; identify it in their team members; embrace it and ensure it is nurtured – not just tolerated! Some of the key points that make an inclusive leader are:
Recognition of talent in all its forms

Curiosity

Create an environment of psychological safety –

Humility and vulnerability

Get to know others in their team

Seek advice and don't assume

Fairness – ensure all team members are given a voice and an opportunity to speak – LEADERS SPEAK LAST!
What exactly is psychological safety is? Psychological safety is where you are allowed to be yourself, for example putting forward ideas without fear of ridicule or repercussion. Just as physical safety is a priority for most organisations, psychological safety needs to become a focus area if diversity is to be leveraged successfully.
So, what are the roadblocks to inclusion?
Good intentions don't always translate into inclusive behaviour. Everybody has unconscious biases, personal preferences, blind spots – and they are all very human traits, but it is important to identify them and mitigate against them. Edyta recommended a readily available on-line tool to assist individuals in uncovering these biases – The Harvard Implicit Association Test.
Edyta explained that this test assists in identifying your biases in order to take the first steps in mitigating them.
Where do biases come from?
We are all prone to have biases – we are bombarded with so much information from the minute we wake up – over 11,000,000 external stimuli, but our human brain can functionally process only 40 pieces of information at any one time. The human brain has evolved to take shortcuts and apply filters to the information that we receive.
The filters that we apply depend on who we are, what we have been taught by our parents and teachers, our gender, age and lived experiences.
They make us unique, but they also influence the way we apply filters in our everyday lives.
4 Main types of biases in the workplace
Edyta shared the 4 main biases that can affect our decision making in the workplace:
Affinity bias – We like to be "comfortable", and we tend to feel comfortable when we surround ourselves with people most like ourselves (this obviously doesn't help if we are tasked with hiring!). The Affinity bias is a positive bias towards those who are most like us.
Confirmation bias – We don't want to be wrong! Confirmation bias is when we interpret and recall data which aligns with our personal beliefs.
Conformity bias – Over time you will start to conform to the way the rest of the group acts, even if it goes against our better judgement.
Halo bias – This bias is when you allow 1 positive/negative characteristic to influence the way you think about or view a particular person as a whole.
Edyta went on to share a number of case studies with the audience – case studies which highlighted and tested the various forms of bias. These case studies included:
Biases during hiring processes – specifically ethnicity on CV's;

Gender biases within orchestras since the 1970's; and

The Solomon Asch Experiment conducted in 1951 – an experiment which tested conformity in groups.
Ingredients that feed bias are ambiguity, time pressures and a lack of critical mass:
​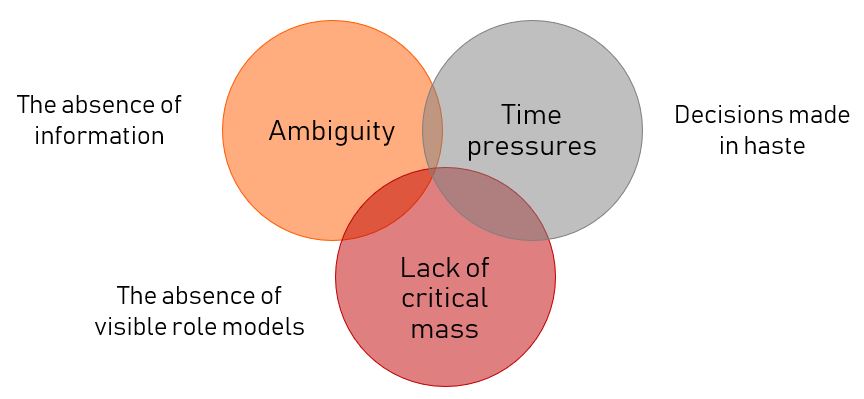 How to mitigate these biases?
How do you go about mitigating these biases?
Acknowledge that you have the biases;

Recognise the type of biases you have and when they are triggered the most;

Commit to the change, one step at a time, one decision at a time on a daily basis;

Sustain it over the long-run; and

Don't forget to Communicate your goals in creating a more inclusive environment.
Other ways to mitigate bias are:
Make a commitment to diversity

Actively seek out diverse candidates for roles and promotions

Allow everyone to speak in meetings – this will allow those who usually may not speak up to get some air time

Leaders speak last – often when the leader speaks first, they unintentionally set the tone or mood for the rest of the group

Get to know people on an individual level

Take time to make decisions
​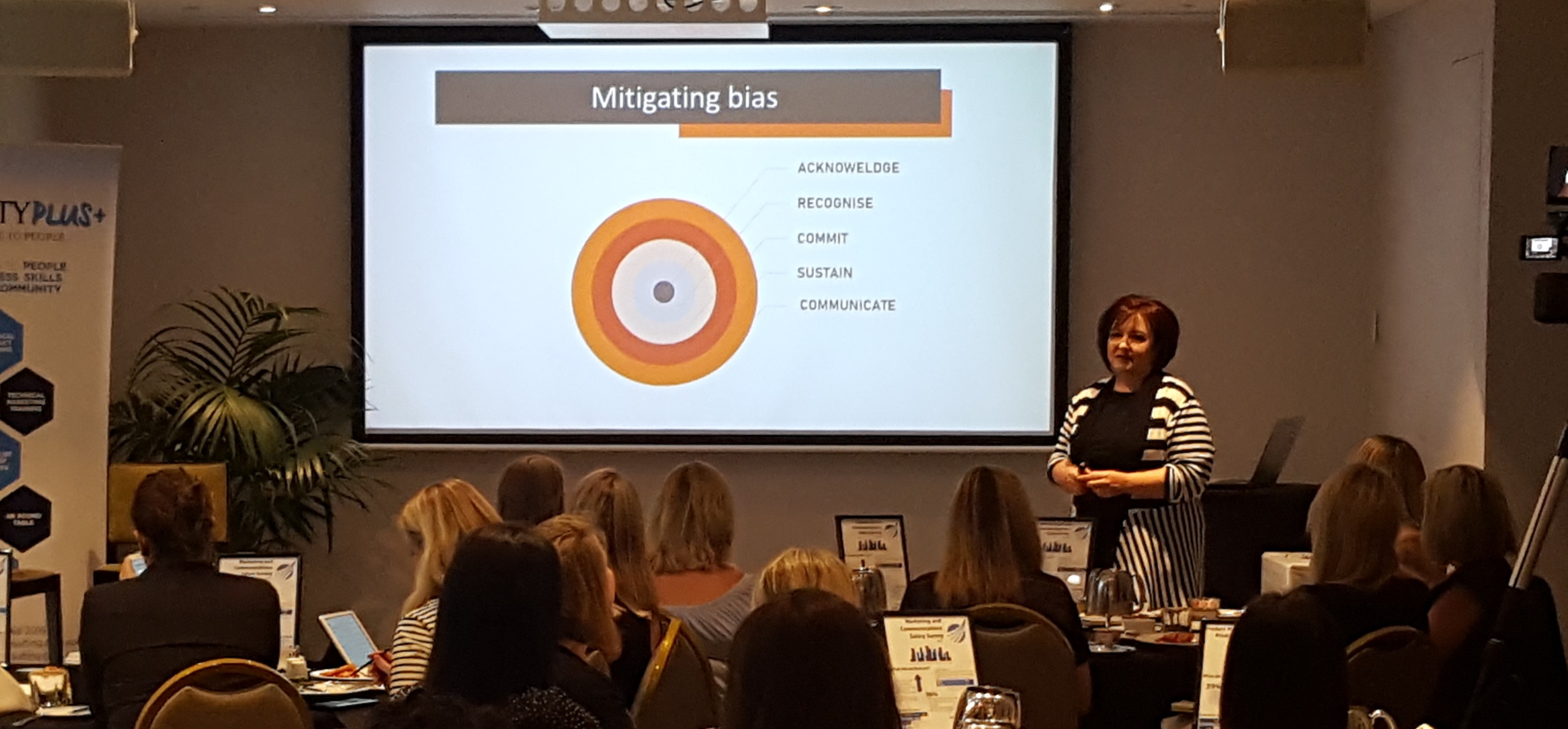 Edyta then turned to the audience for their questions!
Q1. In organisations small and large, what are some of the common mistakes you have seen?
Whilst many may think there is a 'silver bullet' or easy answer to inclusion in the workplace, Edyta shared that getting D&I right is difficult and not necessarily natural to do. It needs to be a commitment to a long-term change program – for example, organisations have seemingly moved on from gender diversity, but we haven't really got that done right yet!
Doing D&I within the organisation is not done in isolation – it depends on the culture of the country, organisation, etc. Eg Scandinavian countries have been focussing on a more equal society for a longer time then we have, seem to have the D&I equation right both in schools and organisations – people bring what they know in their lives into the workplace. Australia has come a very long way, but there is still a lot of growing up to do eg people with English as a 2nd language, people with a disability – and how we view these people within organisations.
Q2. Share with us your perspective on recruiting – specifically recruiting for values?
Edyta shared that she found this to be a particularly interesting area – stating that it has been shown that if your shortlists aren't at least 50/50, then the chances of achieving diversity is 0% (depending on what your focus is – e.g. gender).
Organisations need to be shaken up a bit and be open to trying something new – ie candidates that have a different perspective, ideas, etc. When you are hiring, if the candidate aligns with your values, you are 80% there. You then need to shift the focus to diversity and tick that off too.
Edyta added that diversity in hiring processes will be aided if there is diversity on the hiring panel (diversity across the decision makers). Studies have shown that if 30% of your decision-making body/panel is diverse in some way, you are more likely to attract and recruit diverse people.
Managing Director of Parity Consulting, Victoria Butt shared that there is some amazing testing coming out on both EQ and IQ – and a lot of organisations are becoming a lot more progressive in this area.
Q3. People coming in with set biases – do you try and shift these biases, or avoid hiring these individuals? E.g. LGBTQI biases
Edyta shared that when you create an environment of psychological safety, then individuals can accommodate each others views without necessarily changing their own values. Respect each other as colleagues and this means you don't have to necessarily have the same views – whether they be religious, LGBTQI, etc – nobody should be made to feel like the 'other'.
"It is up to the leaders and organisations to set the tone and stress the importance of respect for individuals within teams" – Edyta Torpy
Q4. Recruiting and engagement surveys – what have you seen done really well?
People are really savvy when applying for a role – they generally do their research and know what an organisation stands for and is looking for. Word of mouth and the internet makes it easier for people to be able to find this information out also. This gives organisations the perfect opportunity to attract diverse groups of people – by ensuring that the organisations messaging is what they want it to be to attract the right people.
When advertising, make it very clear in the advert what the organisation stands for. As an example, Allianz's new key focus for diversity is around disability – asking candidates if they need adjustments and making it clear that they will make any reasonable adjustment to help you come into the organisation. Same goes for LGBTQI – promote your support on your website or social media – this sends a clear message that your organisation will be a safe and inclusive environment.
Q5. How do you effectively measure inclusion and belonging?
Edyta admits this is a difficult one to measure. Inclusion is quite intangible – but it can be measured on annual engagement surveys and level of satisfaction in a job.
It is still important to measure/report on certain aspects of diversity – incorporate diversity goals in performance KPI's for teams, managers and organisations. Edyta added that "what is recorded gets done – and what's reported gets done even better." This keeps individuals in check and accountable!
Q6. Who does D&I really well?
Edyta says that for her, there are those who do it well, and those who talk about doing it really well!
Edyta has found that Professional Services firms do it well as they have been working on it for a while now– they have been working on it for at least 15 years.
If your CEO and leadership team set the tone, and if they happen to be diverse themselves, D&I initiatives will work even better. Sponsorship from a senior level, advocate or a different voice can be a powerful way in conveying a message.
Another way to make this work would be to have specific measures and accountabilities set for D&I; such as linking bonuses and remunerations to hitting targets in diversity and inclusion. Organisations may say they are serious about D&I, but if they are not linked to a performance indicator, chances are it will not be done very well.
Q7. With working on a role, how do I stress the importance of diversity during the hiring process – especially when the hiring manager just wants to get the role filled?
Edyta says that Talent & Acquisition and recruiters are the most hard-working people with the most pressure put on them – and she takes her hat off to them. A few areas that you can focus on to help you in your roles:
Slow and steady – the more you talk about it and hear leaders talking about it, the more it will sink in. Diversity is something that will never happen overnight and will always be part of an ongoing process.

Shortlists – Ensure it starts from you – you have the power to include diverse people on your shortlist! Present really capable people who happen to be diverse on the shortlist.

Advertising – Look at different recruitment channels – eg Glassdoor, LGBTQI job boards, WORK180. Why not build a relationship with a strong candidate with a diverse background even when there isn't a role? There may be a suitable role in the future. This goes back to role-modelling – if they see it, it is more likely to happen.
Victoria added that 30% of Parity's clients have shared their D&I policy and targets with their Parity Account Manager. This ensures that Parity's team can work in partnership with them.
"When clients share their D&I policy and targets with us, it ensures that my team at Parity can work in partnership with TA/HR and Line Managers to achieve these goals" – Victoria Butt
Parity has a dedicated person who spends 1 day per week reporting on D&I and other quantitative requirements.
Edyta also shared that we should be educating hiring managers on who is out there and what the market looks like – be brave and curious and find different ways to find the right staff.
Find that 'different voice' – the one person your team are not expecting to champion the subject matter, as this is such a powerful way of getting a message across!
​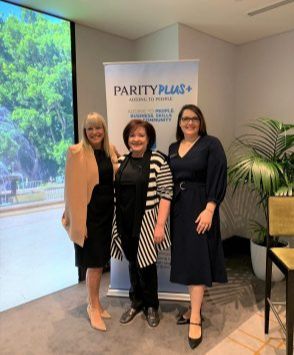 A big thank you to Edyta for sharing her wealth of knowledge, insights and advice with our audience. The feedback from the event was extremely positive, with attendees walking away not only amazed with Edyta and her presentation, but with action points to get started on making their organisations more inclusive and mitigate unconscious biases!
For information on our Parity Plus events for 2019, follow us on LinkedIn for regular updates.