​We've just held our first Parity Plus "Story to Success" event for 2019! We had Josh Walther, Chief Customer Officer at Tyro Payments, join us to talk about his career journey and share some valuable insights. Josh has a unique skill-set encompassing both strategic and operational leadership and in 2015 he was awarded the Australian Customer Experience Executive of the Year Award by the Customer Service Institute Australia.
Josh's professional journey began 20 years ago, developing experience across distribution & sales, service channel leadership, strategic management consulting, retail and business banking as well as financial services. Prior to Tyro, Josh worked at ING Direct, Aussie Home Loans, KPMG and Arthur Andersen. At ING he went from leading a strategy team of 3, to leading a customer-facing team of 300 staff. As Chief Customer Officer at Tyro, Josh is focused on driving the growth and experience of Tyro's customer base via leadership of their sales, partnerships, account management, customer service and customer engagement and retention teams.
Key messages
The skills which made you successful in your last job may not be the ones that will make you successful in your next role;

Working with different professionals at different levels and with different backgrounds can be challenging, therefore tailor your style to the situation and the people – but always be authentic, open and humble;

Find good role models! But learn as much about what not to do from poor leaders, as well as what you should do from great leaders;

People cut you more slack than you think – talk to people when going through stress / anxiety;

Be clear on what you want to achieve – and make sure that everyone in the business understands how they contribute to the strategy;

Work with people you trust and choose your organisation carefully. (Josh has purposely moved organisations in order to work for companies which make a genuine difference in the market place – and he loves a challenger brand).
​
Advice to Josh's younger self:
"What made you successful in your last role, won't necessarily make you successful in your next role."
There will be a lot of hurdles in your career, and things will occur just because they happen that way. Treat yourself kindly along the way and don't beat yourself up.

Careers are long – take things seriously but, remember it's a marathon, not a sprint!

Don't shy away from opportunity because it's scary – you're being offered this opportunity because people back you and believe you are capable.
Advice to aspiring senior leaders:
Think of why you want that role/promotion/job title. Josh shares that we all grow up being told what we "should" do and that we "should get a promotion". He recommends that you "should" think about what's going to make you happy and what you're going to enjoy in the role.

Don't neglect your networks – it takes work to maintain relationships and opportunities may come from connections. Build you profile by building your relationships.
How to stand out in an interview:
Do your homework and bring a point of view and opinion to the interview

Be confident, it's important to enjoy the interaction and build a connection

Ask specific and insightful questions, they show your level of interest and understanding of the organisation

Be self-aware and acknowledge that nobody is perfect at their job all the time
Overcoming failure:
Josh admits he is a perfectionist and when he fails, he would beat himself up. He pulls himself out of failure by reflecting on himself – "Could I have worked harder?" "Could anyone do a better job than I did?". He reflects that chances are, the answer would be "probably not". This helps boost Josh's confidence, along with remembering what's a realistic expectation of the task at hand.
Showing weakness/vulnerability as a leader:
Josh is 90% all for it. He feels it makes you more "relatable". He suggests that opening up to people will encourage them to open up to you – It allows others to see your human side. While showing vulnerability, he also feels that demonstrating capability is crucial. If you're vulnerable without this, then you can lose trust.
​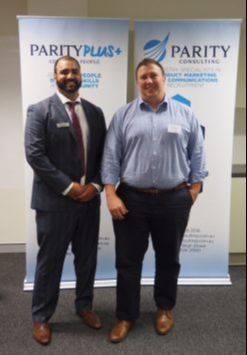 Did you enjoy this event? It would help us immensely if you could take some time to fill out this feedback survey! For future events, keep up to date by following Parity on LinkedIn!
To get in contact with our team, email us at info@parityconsulting.com.au or give us a buzz on +61 2 8068 2016 or +61 3 9016 8606.
We hope to see you at one of our next events!