​Our first Parity Plus event of the year – "A guide for future ready leaders: Building a mentally resilient workforce" featured keynote speaker, Graeme Cowan – Board Director R U OK? And a panel of 3 mental health experts, Dianne McCabe – Director the happy path, Jay Spence – CEO Uprise, Fleur Heazlewood – Managing Director The Blueberry Institute and 130 leaders passionate about ensuring they have the tools to create and support teams that are mentally resilient.
Graeme Cowan, Board Director – R U OK? Keynote:
The Moodometer – Rate your mood so you can manage your mood.
​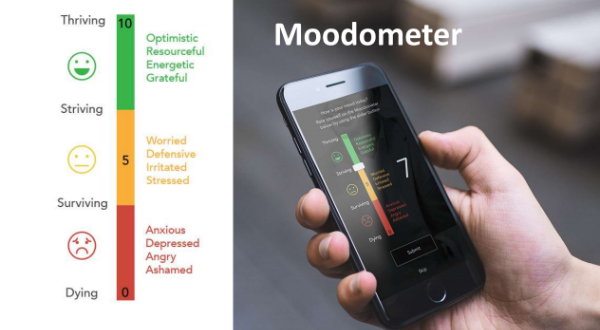 There are 3 mood zones: Green, Yellow and Red.
Green Zone - productive and creative zone. We're more optimistic, resourceful, energetic and grateful. We better parents, better partners and better work colleagues. We're also 31% more productive, sell 33% more and are 300% more creative.

Red Zone - expensive Not just because it is where absenteeism occurs, but also presentism – you're at work but you're not productive.
A guide for future ready leaders:
Keep yourself in the green zone

Keep your team around you in the green zone

Know how to help those in the red zone – part of the care revolution.
Care revolution: A future-ready leader's #1 priority is to build a more caring and resilient team, who enjoy growing together.
​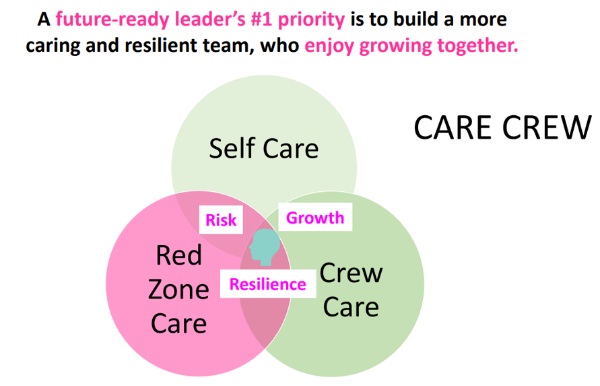 ​
Self-care: Focusing on caring for yourself and your needs; self-care ISN'T selfish.

There are three elements in self-care – Vitality, Intimacy and Prosperity.

Crew care: People that are great for you, people that you can be vulnerable with. "Work crew or home crew. Work is important to our wellbeing; it should be focussed on work/life integration not work/life balance."

Red zone care: "85% of Australian's know someone close to them with a mental illness"
Self-care + crew care => Growth
Crew care + red zone care => resilience
Self-care + red zone => risk mitigation
VIP – V(itality) I(ntimacy) P(rosperity)
Graeme's advice is to act like a VIP – find your "one thing" that is your ritual, eg going for a walk or meditating. It is something that if done often and consistently, everything else will go well.
"Big changes come from doing little things each day."
Q&A: Graeme Cowan, Dianne McCabe, Jay Spence, Fleur Heazlewood – Led by Victoria Butt. Read the answers here!
Additional resources to help build a mentally resilient team:
Parity would like to thank Graeme, Dianne, Jay and Fleur for their valuable and practical advice on such an important topic for all who attended the event and the wider communities we all belong to! For further information about our Parity events, please contact us on +61 2 8068 2016 (Sydney), +61 3 9923 8081 (Melbourne) or events@parityconsulting.com.au. Alternatively, if you are interested in participating as a speaker for our future events, please also feel free to drop us a line – we'd love to hear from !