​Continuing along with our Parity Picks initiative, this week we got to interview Justin Howell, Chief Operating Officer at Pendal.
Jumping straight into it, we asked Justin how he would describe what he does to people he meets for the first time. Very honestly (which is Justin's style through and through!), he admitted that he tries to "avoid that conversation at all costs." In the past he used to explain that he works in funds management, but as that would often lead to a half hour conversation; these days he simply says he works in financial services. As for his children, pre-COVID he told them that he was a train driver. However after being at home on his computer or on phone calls during the pandemic, his real job was exposed to them; and trying to explain investing to young kids proved to just elicit confusion and blank stares – as he expected!
If Justin were to write an autobiography, it would be called "The Lucky Man." Having grown up in England, he feels immensely grateful and lucky to now be in a country like Australia; lucky to be in an environment where opportunities are abundant; lucky to work in the industry he's in and to have a safe, warm office. The only thing that would make him feel even luckier would be having the superpower of reading people's minds. Whether it be in the corporate world or in his family life, Justin – as all of us do – runs into people sometimes who do not tell him exactly how they feel or what they are thinking. So even though it could be dangerous if everyone had this ability, he believes it would cut "a lot of rubbish out of the world."
As a child, Justin originally wanted to be a fireman. But after going to school, he realised what he really wanted was to be valued and to prove his worth. Upon traveling for a while after university and ending up in Australia, he knew he wanted to
"work hard for an outcome that [he] believed in."
As a teenager, though, Justin was not always aware of the importance of making his own way independent of others opinions. When asked to reflect on advice he would give his 15-year-old self, Justin now has the wisdom he wishes he had and gave us a response that was threefold. Firstly, he noted how the structure of any relationship is two-way – you've got to give in order to receive – and he mentioned he would tell his younger self to be mindful of this when trying to make friends. Secondly, he mentioned the profound importance of getting to know yourself and not being afraid to be alone; you're with yourself for the rest of your life after all. Recognising your own strengths and weaknesses, likes and dislikes is useful in managing your behaviour. Lastly, Justin would tell his teenage self to be resilient against the "idea of blindly following the crowd to belong" and don't let other people make decisions for you.
In thinking about the present day, Justin does his best thinking in the middle of the night – and no, not dreaming! He disclosed to us that once every few weeks, to once a month, he wakes up around three in the morning to stop, reflect, and process until around six in the morning.
​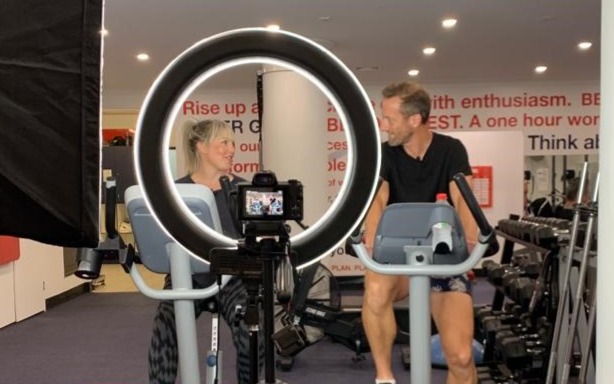 When asked about an idea for an app, Justin reflected and suggested a futuristic mood ring, your watch or phone would be able to display a red, amber, or green light, coordinating with how you are feeling and adding suggestions to help. A great idea in this COVID-world, where mental health is so prominent, as well as being able to gauge team members during a meeting!
In terms of his philosophy on work-life balance, family always comes first for Justin. As for work, he loves the "new world" we're in. Being able to work such flexible hours and be home with the family more at the same time has really excited him. As for COVID, he has seen increases and efficiency gains in his work. He also appreciates the newfound trust that has been instilled in employees; no matter where people are situated, the empowerment and reliance that the job gets done is there.
Our chat with Justin was very engaging and informative, and we hope you enjoy seeing the energetic face-to-face one we have in store - watch this space!
Victoria is an Executive Search Specialist, entrepreneur, Founder and Managing Director of Parity Consulting - a thought leader, wife and mother, blogger, and a wine snob! She believes in life by design and is blessed to have found her career home in the training & recruitment industry, founding Parity Consulting on the belief that the candidate and client must be equal within the hiring process.
Parity Consulting
works with clients who embrace diverse and inclusive environments and empower their teams to bring their authentic whole self to work. We encourage people with different beliefs, abilities, backgrounds and life experiences to contact us.