​Here at Parity, we have begun a new initiative, Parity Picks, where we will be interviewing Australian- based executives and showcasing their careers - just differently! However, these interviews are not your average conversation; we wanted to create a fun and vibrant atmosphere to truly captivate these lovely executives for who they are, not simply as professionals, but as people. To kick off this project, our founder Victoria Butt will be interviewing Lorraine Thomas, Chief Officer, Product & Innovation at HCF while conducting blind champagne tasting! This will be filmed and available from March 2021. In the meantime, below is a teaser!
If you were to ask Lorraine what she does for work, you would most likely never hear her say that she is an "executive." You may be thinking to yourself, but why? Wouldn't you want people to know the hard work you've put in to get to where you are now? Lorraine's answer is simple: she would rather people get to know her for who she is, rather than creating perceptions of her just because of a fancy job title. So, in Lorraine's words, she works in the health insurance field and happens to be a senior manager. According to her kids on the other hand, she does too much on the computer and has lots of meetings! If Lorraine could have one superpower it would be telepathy – and it would definitely come in handy in these times! She told us how she would love to be able to get into people's minds and truly understand what they are thinking or trying to articulate.
Growing up in the south of England in Bournemouth, Lorraine did not know where she would go with her life, but she knew that she wanted to escape the traditional pathway for a female in the late 1990's.Lorraine knew that she did not want her future decided based on solely what her parents did - she wanted to do more. She has always strived to be better and break the cycle she saw when she was younger.
While Lorraine had a multitude of people advising her as to what she should do when she grew up, such as becoming a doctor or lawyer, she knew that as soon as she started her university degree in dentistry that she had a different calling. Eventually switching to geography where her passion lay, Lorraine still had many voices in her ears telling her that she could not make a living out of that.
However, working towards something you love has always been a core belief of Lorraine's. Knowing that you are doing something you can dedicate all your energy into whilst loving what you do, has proved a consistent motivator to perform her best. In saying this, when asked what advice Lorraine would give her 15-year-old self, she stated to:
"keep going, be strong, and don't let people hold you back"
When probed into Lorraine's background and dealing with adversity, she shared that in her last year of university, Lorraine underwent family struggles that caused a plethora of distractions. Being the eldest and being called upon to help support and resolve their situation, she was not able to put 100% of her focus and efforts into her studies. Not finishing as strongly as she maybe would have without these obstacles, Lorraine did not graduate with many academic accolades. However, Lorraine knows and values the fact that these accolades are not the be-all, end-all, and remains a true believer that if you are meant to succeed you will do so with or without.
It is safe to say that Lorraine has done just that. Having worked multiple side jobs from the age of just 13 – from working at a fish and chips shop to a bar in the UK to pay the bills and help support her family, the insurance industry seemed to just find her. Getting older and becoming tired of working in a smoky pub until four in the morning, Lorraine began selling motor and home insurance, and upon graduating started a full-time job doing so. She has worked in all different parts of the insurance industry, from not only selling but also servicing and claims, and is now able to confidently say she understands how they operate; which has been a great advantage in getting her to where she is today!
Speaking of where Lorraine physically finds herself today, her journey to Sydney was certainly not linear. Deciding to uproot to Auckland in 2001, she saw this is as another escape towards an opportunity to make her own way. She was the first in her family to move from the UK, and with a complete change in scenery, saw an amazing opportunity to challenge herself. Ultimately in 2004 she made the choice to move to Sydney instead of going back home, as she saw yet again a consistent flow of opportunities, and with such a diverse environment in which she "could achieve more than if [she] went home to the UK."
​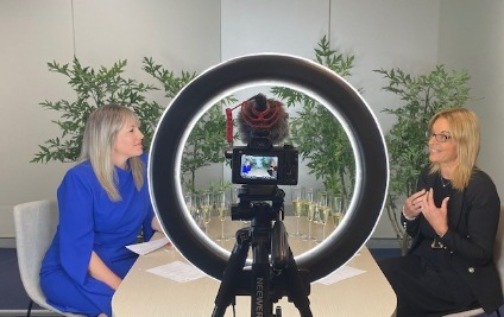 Something that is vitally important in everyone's lives is being able to have a balance of work life and home life. Lorraine's philosophy on this revolves around not striving for perfection "on either side of the equation." Knowing when to ask for assistance or being able to communicate that she may need extra time is key to balancing her work. As for her home life, Lorraine is aware of the sacrifices she makes. Even if that means missing the Christmas carols if they fall at the same time as a board meeting, Lorraine always makes it a point to explain to her kids why that is the case. To her boys it may just seem like lots of meetings or computer work, but she explains the rationale in terms that they understand – like going on nice holidays!
Now in terms of the one thing we had to discuss – COVID – Lorraine has stuck to her beliefs and her philosophy has not changed. What has changed is the way she works. If possible, she puts in even more effort now that she can work longer, more flexible hours at home. She also stated how important it is, though, to support those workers who may not be coping as well with working from home while also providing opportunities to those who are embracing it.
Finally, Lorraine gave us some great insights for anyone who is feeling stuck or constrained, whatever the reason may be. In Lorraine's eyes, the most important thing is to continue to think positively no matter the circumstances and reflect on what is going well, rather than solely addressing the negatives. Similarly, she noted the pertinence of having people in your inner circle you can have open conversations with, and knowing when to cut ties.
We had an amazing conversation with Lorraine Thomas and hope you enjoy learning a little more about her in our accompanied video interview coming out soon - it was a lot of fun!
Victoria is an Executive Search Specialist, entrepreneur, Founder and Managing Director of
Parity Consulting
- a thought leader, wife and mother, blogger, and a wine snob! She believes in life by design and is blessed to have found her career home in the training & recruitment industry, founding Parity Consulting on the belief that the candidate and client must be equal within the hiring process.
Parity Consulting
works with clients who embrace diverse and inclusive environments and empower their teams to bring their authentic whole self to work. We encourage people with different beliefs, abilities, backgrounds and life experiences to contact us.