​
Top 25 Skills Digital Marketing Manager should have in 2022
​
All organisations know how vital digital and mobile channels are today for acquiring and retaining customers given all customers are now online. Digital marketing ensures businesses reach a larger and/or targeted audience than is possible through traditional marketing methods.
​
Digital Marketing professionals are in high demand. The number of jobs posted on job sites has increased by 33% over the last 15 months, which is the highest percentage for any professional vertical.
​
So, what does a digital marketing manager do? What are the skills needed to become one? Keep reading to find out!
​
Digital Marketing Manager job responsibilities
A digital marketing manager is responsible for developing and executing a digital marketing strategy for the company. This can include things like creating and managing social media accounts, email campaigns, SEM/SEO, and other online marketing initiatives.
​
The digital marketing manager is also responsible for tracking the results of their efforts and reporting on them to senior management. This can include detailed analytics on website traffic, conversion rates, leads generated, and other vital metrics. Finally, the digital marketing manager must also stay up to date on the latest trends and developments in the digital marketing space so they can continue to optimise their strategy accordingly.
​
Digital Marketing Manager Skills that employers are looking for
We have divided the list of skills into three different categories i.e, Foundational Skills, Technical Skills and Soft Skills.
Foundational Skills in Digital Marketing
​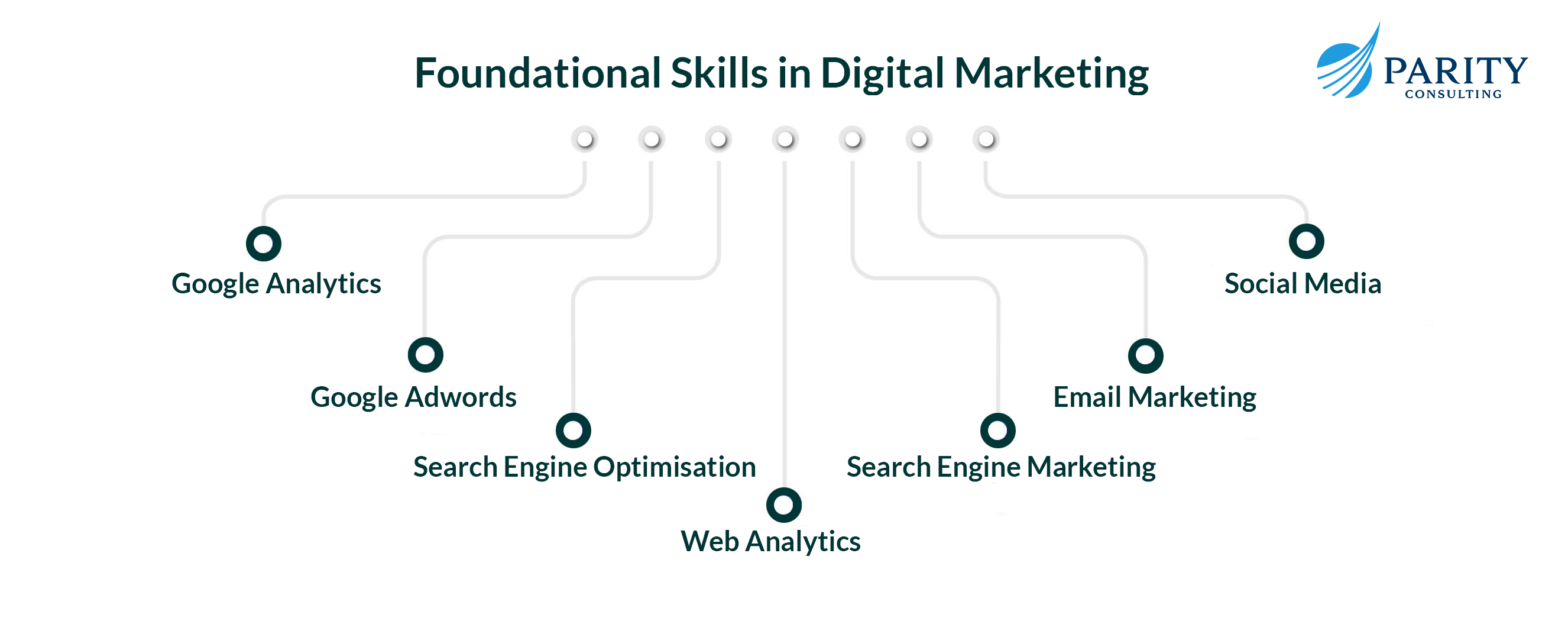 ​
1. Google Analytics
Google Analytics is a potent tool that all digital marketing managers should be familiar with. It allows you to track how people interact with your website, where they are coming from, how long they are staying on your site, what pages they are visiting, etc. This information can help you to optimise your website and marketing campaigns to ensure that you are reaching your target audience and achieving your desired results.
​
Mastering Google Analytics is essential for any digital marketer looking to improve their campaigns and measure the success of their work.
​
2. Google AdWords
There are a few key reasons why companies prioritise Google AdWords skills when looking for a digital marketing manager. First and foremost, AdWords is a highly effective way to reach potential customers. With the ability to target specific demographics and interests, AdWords allows you to craft very targeted campaigns that result in significant ROI.
​
Another reason companies look for AdWords skills in digital marketing managers is because it is a constantly evolving platform. Google makes regular updates and changes to the way AdWords works, so it's crucial for digital marketers to be able to keep up with those changes and know how to utilise the newest features.
​
3. Search Engine Optimisation (SEO)
As the world of marketing becomes increasingly digital, companies see the importance of Search Engine Optimization (SEO) and look for employees with solid google SEO skills.
​
Good SEO skills can help a digital marketing manager better understand how Google algorithms work and what factors influence rankings. This knowledge can then be used to develop more effective campaigns and strategies.
​
Strong SEO skills can also help digital marketers troubleshoot issues with their website and make improvements as needed.
​
Overall, companies value SEO skills in a manager because they know that it is an essential part of today's online.
​
4. Web Analytics
If you want to be a digital marketing manager, it's essential to have web analytics skills. Why? Because that's how you can measure the success of your campaigns and determine what is and isn't working.
​
And if you want to stand out from the competition, those are two essential skills to possess. So if you're looking for a career in digital marketing, make sure you focus on learning web analytics.
​
5. Search Engine Marketing
SEM (search engine marketing) is just one component of a company's overall digital marketing strategy, but it's an important one because it involves paid advertising campaigns that target potential customers through search engines like Google and Bing.
​
So why do companies look for SEM skills in a digital marketing manager? Because paid advertising is becoming an increasingly important part of the overall marketing landscape, and because successful SEM campaigns require a lot of strategic planning and tactical execution. And that's what a good digital marketing manager should be excellent at!
​
6. Email Marketing
Email marketing is an art and science that requires a deft touch. It's not enough to simply blast out emails to your customers; you need to create messages that are personal, relevant, and engaging. That takes skill – the kind of skill companies look for in their digital marketing managers.
​
7. Social media
Social media is a powerful engagement and relationship-building tool. It's a way to connect with customers and prospects on a more personal level and to create a connection that can turn into a long-term relationship.
​
That's why companies look for social media marketing skills in their digital marketing managers. They need someone who can not only create effective social media campaigns but who also understands how to use those campaigns to build connections with customers and prospects.
Technical Skills in Digital Marketing
​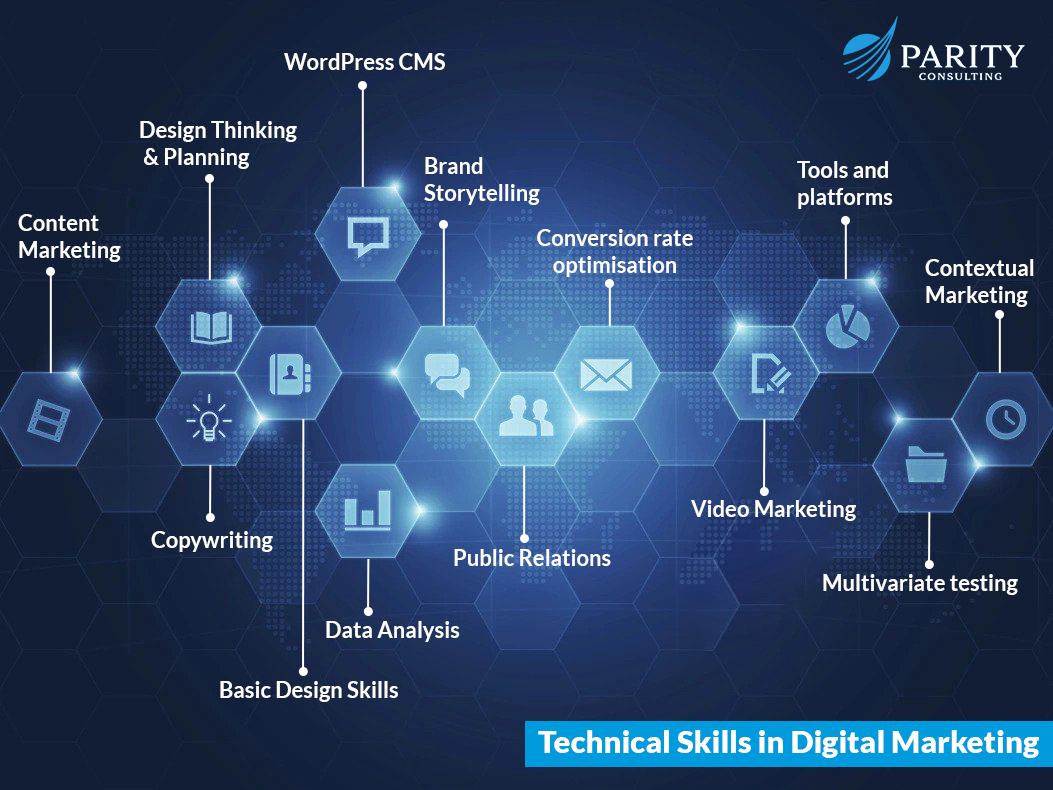 ​
​
8. WordPress CMS
The ideal candidate should understand how to use content management systems, like WordPress to create and manage websites. They must know how to set up and customise a website, add new pages or posts, upload images and videos, and tweak the site's design.
​
Essentially, they can take care of all the behind-the-scenes work that goes into creating an online presence for a company.
​
9. Design Thinking & Planning
Design Thinking is all about solving problems in a very user-centric way. It's a problem-solving process that starts with understanding the user and their needs and then with creative solutions that address those needs.
​
This can be incredibly valuable for digital marketing because it allows you to think about problems and solutions from the user's perspective, rather than from the perspective of the company.
​
10. Content Creation & Marketing
Quality content can help businesses attract and retain customers, boost website traffic, and even increase sales. That's why companies are always on the lookout for talented content creators who can produce an engaging, informative, and persuasive copy.
​
A digital marketing manager who has experience and expertise in content marketing can add significant value to a company's online presence by helping them create relevant, engaging content that nurtures leads and builds brand loyalty.
​
11. Basic Design Skills
In order to create beautiful and compelling visual content, marketing managers need to have some basic design skills. This can include understanding things like color theory, typography, and layout principles. By having this knowledge, marketing managers can create visuals that are both on-brand and engaging for their audience.
​
Additionally, good design skills can also help
marketing managers
communicate their ideas more effectively to graphic designers and other team members.
12. Data Analysis
A digital marketing manager who isn't also skilled in data analysis is at a disadvantage. Without access to accurate data, it's difficult to make informed decisions about which campaigns to pursue and which ones to abandon. As more and more businesses move online, the demand for qualified data analysts will continue to grow.
​
So if you're looking for a career in digital marketing, be sure to learn everything you can about data analysis.
​
13. Copywriting
With so much competition online, companies must have someone on their team who can capture their brand voice and communicate their message to resonate with their target audience.
​
Copywriting skills make digital marketing managers more versatile and valuable employees, which is why so many companies are looking for candidates with these skills.
​
14. Brand Storytelling
Brand stories are a way of communicating the value of your brand in a way that is both authentic and engaging. They can be used to raise awareness, build trust, and even convert customers.
​
What's more, brand stories are an incredibly powerful tool for digital marketing managers. That's because they can help you tap into the emotions of your audience and create a connection with them.
​
Think about it this way: when someone tells you a story, you're more likely to remember it than if they just gave you a list of facts.
​
15. Public Relations
Public relations can be an excellent tool for promoting and protecting a company's reputation. In today's fast-paced world, it's easy for negative information to spread like wildfire.
​
A digital marketing manager with strong public relations skills can help prevent and mitigate the damage that falls upon the company.
​
16. Conversion rate optimisation (CRO)
It is a process for increasing the percentage of visitors to a website who take the desired action.
​
The desired action could be anything from subscribing to a newsletter to making a purchase. Companies want their managers to be excellent at this aspect of online marketing. You must have some sort of understanding of this field.
​
17. Multivariate testing
What is multivariate testing? Simply put, it is a way of testing different versions of a web page or email campaign to see which one performs better. This allows companies to constantly improve their online campaigns and get the best possible results.
​
Why do companies want someone with multivariate testing skills? Because it can be extremely effective in optimising digital marketing campaigns.
​
18. Understanding of different Tools and platforms
Digital marketing managers should have a strong understanding of different tools and CRM systems because they play a key role in overseeing and executing digital marketing campaigns. Tools and CRM systems help managers track campaign results, measure customer engagement, and optimize campaigns on the fly.
​
Additionally, being able to use these tools effectively can help managers save time and resources while delivering better results for their campaigns.
​
19. Video Marketing
Videos can be used to entertain, educate, and persuade potential buyers, and they can also help to build brand loyalty among existing customers. Additionally, online video is an increasingly popular medium that is growing in usage every day, so it's important for digital marketing managers to understand how to create and use videos effectively in order to reach the widest possible audience.
​
20. Contextual Marketing
Contextual marketing is the practice of personalizing content and ads to match the specific situation and needs of an individual customer.
​
By understanding a customer's current situation - such as what they're searching for, what their pain points are, and what kind of messaging will resonate with them - digital marketers can deliver much more relevant and impactful campaigns that are more likely to lead to conversions.
​
Lots of
research
has shown that contextualised messaging is more effective than generic advertising, making it an essential tool in any digital marketer's arsenal.
​
Soft Skills in Digital Marketing
​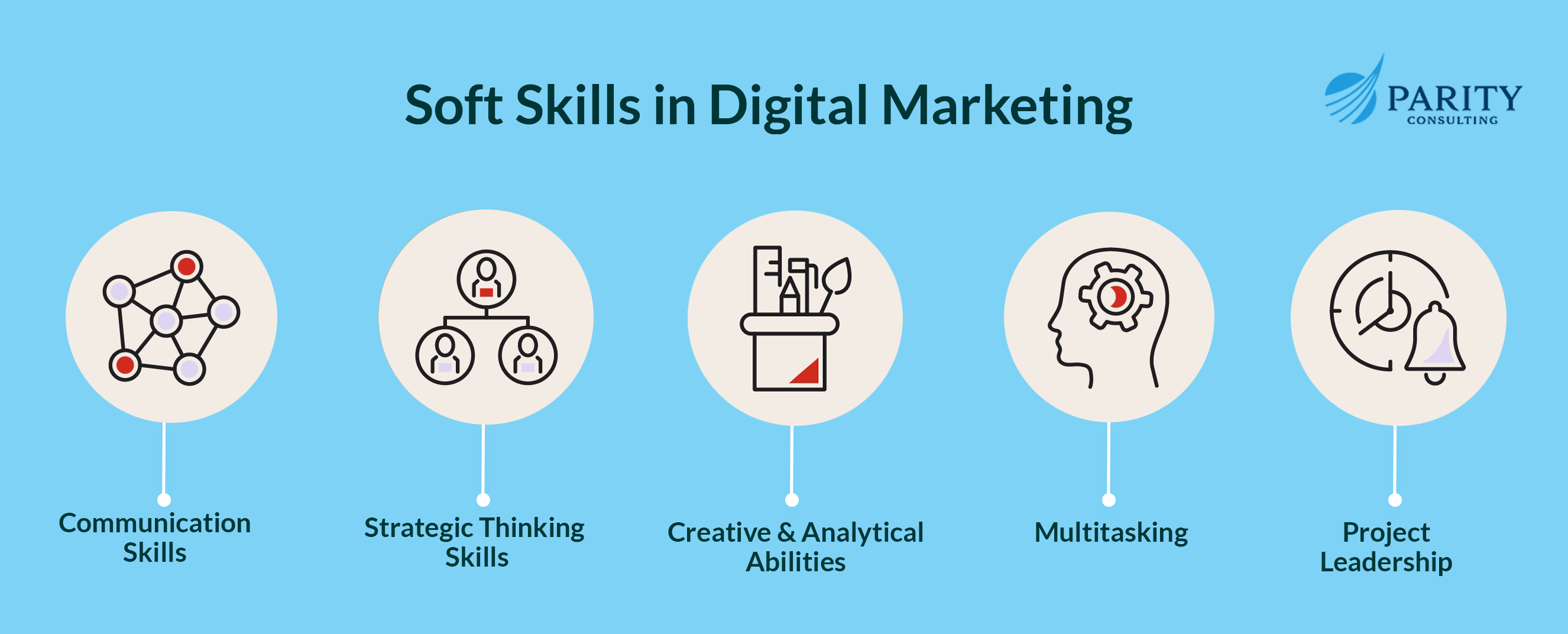 ​
​
21. Communication Skills
Successful digital marketing managers need to be excellent communicators. They must be able to articulate the benefits of their product or service clearly, and articulate how it fits into the customer's overall journey.
​
In addition, they need to be able to effectively engage with other members of their team, including developers, designers, and content creators. Without communication skills, it would be very difficult for digital marketing manager to carry out their duties successfully.
​
Additionally, many companies look for digital marketing managers who have experience working in an agency setting. This is because agencies tend to have many moving parts and require excellent communication to function correctly.
​
22. Strategic Thinking Skills
Digital marketing managers should have strategic thinking skills because they are responsible for driving the company's overall digital marketing strategy. They need to be able to think ahead and formulate creative solutions to problems that may arise.
​
Without these skills, digital marketing managers would likely find themselves at a loss when it comes to developing campaigns or strategies that achieve objectives and goals. Additionally, they would also have trouble adapting to changes in the marketplace or during key moments in the sales cycle. As such, possessing strong strategic thinking skills is critical for any digital marketing manager who wants to be successful in their role.
​
23. Creative & Analytical Abilities
Digital marketing managers should have Creative & Analytical Abilities because both skill sets are essential in order to be successful in the role.
​
Creative ability is key because digital marketing is all about creativity — coming up with new and innovative ways to reach and engage customers. Analytical ability is important because it allows marketers to track and measure the performance of their campaigns, and then make adjustments as needed in order to achieve the best results.
​
So, if you want to be a successful digital marketing manager, you need to be able to think creatively AND analytically!
​
24. Multitasking
Most digital marketing managers have a lot on their plate. They're responsible for developing and managing marketing campaigns, overseeing social media accounts, crafting email marketing blasts, writing website copy, and more. As a result, multitasking skills are essential for success in this role.
​
Being able to juggle multiple tasks at once can help digital marketing strategists stay organised and efficient in their work. It's also important for being able to adapt on the fly and respond quickly to changes or challenges that come up.
​
25. Project Leadership
Project leadership skills include the ability to set clear goals, establish timelines, allocate resources, and manage team members effectively. A digital marketing manager who also has strong leadership skills can motivate team members towards collective success and keep everyone on track.
​
To sum up:
The digital marketing landscape is constantly evolving, and it can be hard to keep up with the latest trends. But if you want to stay ahead of the curve in 2022, make sure you have these top 25 skills.
​
Of course, this isn't an exhaustive list – many other important skills could be included here. But if you focus on mastering these key abilities, you'll be well on your way to becoming a successful digital marketing manager.
​
And if you're not quite there yet, don't worry –
Parity
recruitment consultants can help you find the perfect job that will allow you to develop your skills and reach your full potential.
Contact us today to get started!