How is Product Management Changing in the Financial Services Sector?
As we move further into the 21st century, more and more products and services are moving online. This is particularly true in the Australian financial services industry, where consumers increasingly turn to mobile banking and other digital offerings.
​
Given this trend, it's essential for Product Managers in financial services sectors such as banking & insurance and asset & wealth management to stay ahead of the curve and adopt new technologies and trends to deliver value to their customers.
​
In this blog, we will take a closer look at what the future may hold for Product Managers in financial services. We will also look at some of the challenges and provide some tips and trends that lie ahead for them. Read on to learn more!
​
Digital Product Management in the Banking & Insurance Industry
Product management in the Banking & Insurance Institutions generally refers to the oversight of financial products offered by banks, insurance companies, and other fintech institutions. This includes developing new products, managing existing products, and working with sales and marketing teams to ensure that Products meet customer needs.
​
In this sector, they typically have a business administration, computer science, or engineering background. They need to understand complex financial systems and have strong technical skills to manage software development projects. Many large financial institutions have formal product management training programs that prospective employees can complete.
​
Working as a digital Product Manager in the finance sector can be challenging and rewarding. It requires knowledge of financial products and an understanding of customer needs. Still, it also offers the opportunity to develop innovative solutions to make a real difference in people's lives.
​
Click through for a comprehensive look at product role levels, key responsibilities, competencies, skills, and experience - ​
View Product Role Levels
.
​
Digital Product Management in the Wealth Management Industry
​
In wealth management firms, digital product management plays a vital role in developing and delivering innovative digital platforms and services to clients. They work closely with other members of the business such as investment professionals, and distribution and client service representatives, to ensure that products are launched successfully and meet adviser and customer expectations.
​
In addition, digital Product Managers must keep abreast of new technologies and trends in the industry to identify innovation opportunities. They should be ready to provide consultation, and design input, be able to troubleshoot, revise the new end-to-end Product lifecycle procedures and give feedback to the entire department.
​
Importance of Digital Product Management
​
Most consumer products are now digital-first and digital-native. Product Managers are now becoming increasingly adaptable and comfortable with ambiguity to succeed in this landscape.
​
There are many reasons why product management is so important. First and foremost, a Digital Product Manager is a professional responsible for the planning, execution, and delivery of digital products. Their ultimate goal is to ensure that the product meets the customer's needs and is delivered on time and within budget. In order to achieve this, they must be adept at wearing many different hats throughout the product life cycle. They are responsible for gathering requirements, managing stakeholders, building consensus, creating user stories, crafting sprints, and much more.
​
A successful Digital Product Manager must also be an expert communicator and understand both waterfall and agile methodology. Without these two key components, it would be impossible to deliver a digital product successfully.
​
They work with teams of engineers, designers, and marketers to ensure that each stage of product development is on track and meets customer demands. Finally, good Product Managers are acutely aware of the competitive landscape to ensure their products remain innovative, relevant, and competitive.
​Ever wonder what product management is precisely? Download our
one-page summary
for a starting point in your product management journey!
​
4 trends that are currently shaping the financial services
​
Product Managers must keep abreast of a wide range of trends in order to be able to develop products and services that stay ahead of the curve. Some of the key trends that are currently shaping the financial services landscape include:
​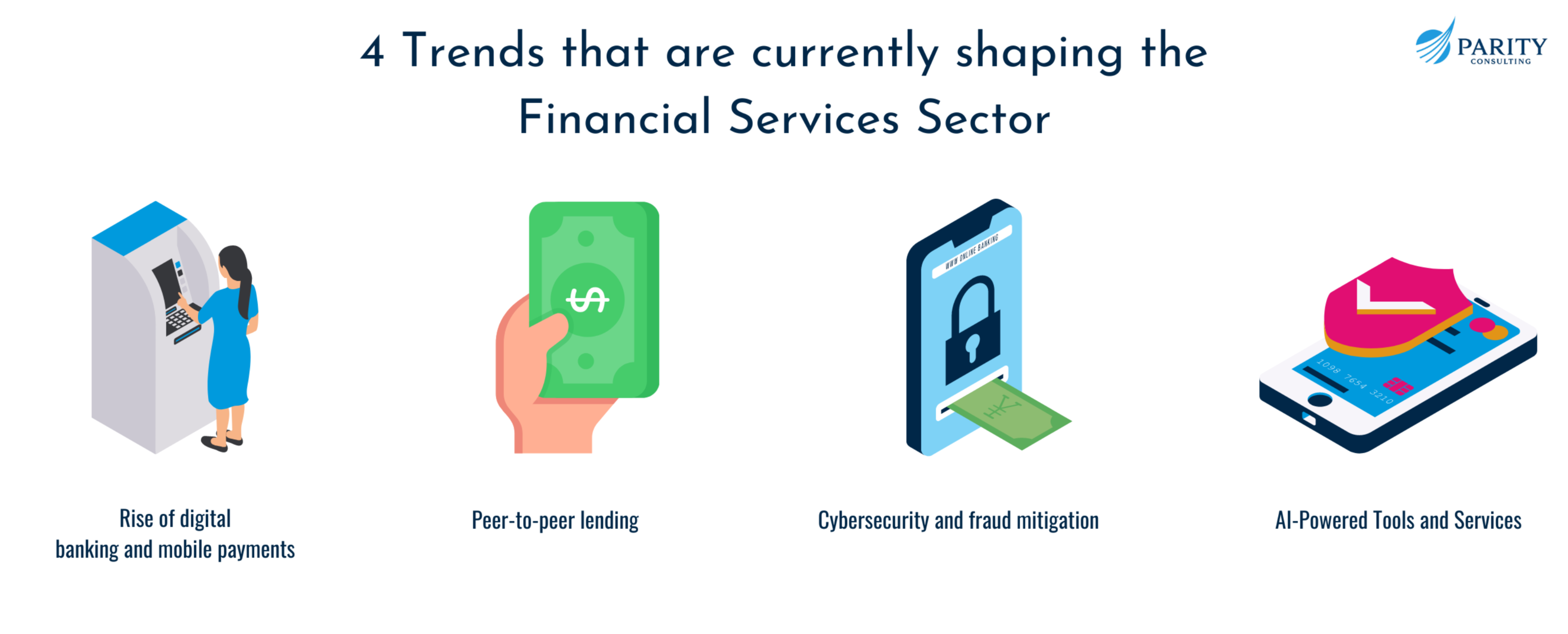 ​1. The continued rise of digital banking and mobile payments
More and more consumers are conducting their banking and financial transactions online or via mobile apps, so Product Managers must ensure that their products are easy to use and accessible.
​
2. Peer-to-peer lending
It's no secret that peer-to-peer (P2P) lending is growing at a rapid rate. In fact, it's been one of the fastest-growing segments of the financial services industry for the past few years. This poses a unique challenge for Product Managers, as they must now find ways to address the needs of both lenders and borrowers in this new environment.
​
For starters, Product Managers need to make sure that their platforms can handle the increased load and scale that comes with P2P lending. They also need to ensure that their products are user-friendly and easy to use so that both lenders and borrowers can quickly and easily access them.
​
3. Cybersecurity and fraud mitigation
There's no doubt that these are critical issues within financial services product management. After all, Product Managers are responsible for safeguarding customer information and protecting against potential fraudulent activity.
​
While there are several measures that Product Managers can take to combat cybersecurity threats and fraud, some of the most critical include:
Educating employees about cyber risks and reinforcing policies to protect against them

Establishing robust authentication protocols to ensure that only authorised users have access to sensitive data

Regularly reviewing user activity logs to identify suspicious behaviour

Using data encryption technologies to protect information both in transit and at rest.
​
4. AI-Powered Tools and Services
A significant proportion of senior executives perceive AI positively in terms of its impact on financial services. Some of the AI-Powered Tools and Services that Product Managers must adopt in the finance sector include predictive analytics, chatbots, and natural language processing.
​
Predictive analytics is a form of artificial intelligence that uses data mining, machine learning, and statistics to predict future events. Chatbots are computer programs that can communicate with people using natural language. And natural language processing is a type of artificial intelligence that enables computers to understand human speech.
​
Challenges in Product Management in the Banking Sector
The banking & financial services sector is highly regulated, and products need to comply with several rules and legislation. This makes product management more complex and challenging.
​
Another challenge is developing products that are both user-friendly and efficient. Ensuring that products are easy to use is essential, as customers will likely be unhappy if they have trouble using the product or find it challenging to navigate.
​
Banks also have a large customer base, which means products need to be scalable and able to handle high volumes of traffic. And finally, products need to be reliable and secure since customers rely on banks for their finances.
​
Tips for the future Product Managers in the financial services industry
There are a few key things that future Product Managers in the financial services sector should keep in mind:
Know your audience.

It's essential to understand who your target customer is and what their needs are. This will help you create a positive user experience and develop products that customers will want to use.

Keep up with industry trends.

Financial services is a constantly changing industry, so it's essential to stay up-to-date on what's happening. This will help you anticipate changes and react accordingly.

Be data-driven.

You need to be digitally savvy. When making decisions about product development, look at the data and not just gut instinct. This will help you make more informed decisions that can improve your chances of success.

Build strong relationships with your team and other stakeholders.

Product management is a team sport, and successful Product Managers know how to build strong relationships with their colleagues. These relationships will be essential when it comes time to: negotiate priorities, secure resources, and bring new products to market.

Be prepared to pivot.

The best-laid plans often go awry in the world of product management. Product Managers need to be flexible and ready to change course when necessary in order to keep their products on track.
Check here for more
:
​
Closing note
It's clear that the future of product management in the financial services sector is changing and evolving. Product Managers are now required to have a more holistic understanding of the customer, including their needs, wants, and behaviours across all channels. To stay competitive, it's essential for Product Managers in the banking industry to focus on continual learning and growth.
​
If you're a Product Manager looking to transition into the finance sector, our
recruitment consultants
can help you land a job. We'll work with you to assess your skills and experience and match you with appropriate openings. We'll also help you prepare for interviews and negotiate your salary. Contact us today to get started.
​