The difference between UX and UI design and the skills needed to nail these roles
UX design and UI design are both crucial components of the decision-making process for new product development. However, all too often, these two terms are used interchangeably. This is because UX and UI designers have very similar jobs.
They create wireframes, prototypes and flow charts to get the visual look and feel right. Yet they use different approaches, tools and skills.
Let's look at the significant differences between UI and UX, the Roles of UX Designers and UI Designers and the skills needed to become one.
What are UX Design and Its goals?
UX design is an umbrella term that describes the process of designing a product or service to be used by end users. That may sound simple, but there's much more to it than just making something look pretty.


The key to great UX design is creating an intuitive interface that allows users to accomplish their goals with minimal effort (and frustration). This means creating an experience that considers everything from how people react to visuals like colour schemes and typography to how they interact with the product itself, everything from clicking on a website to pressing buttons on your phone while walking down the street.
Goals of UX
The goal of UX design is to make sure that the product or service is usable and satisfying. It should meet users' needs and expectations, whether those goals are getting directions on Google Maps or buying something from Amazon.
What are UI Design and its goals?
User interface (UI) is the part of a computer program or website that allows users to interact with the program or website. It's often referred to as "the front end" because it's what people see and interact with when they use a program or website.
Goals of UI
UI has three main goals:
To create an interface that is easy to use and understand

To ensure that users can access the information they need and find what they're looking for quickly

To make it easy for users to perform tasks efficiently
4 Big Differences Between UX And UI Design
#1. UX makes interfaces useful, and UI makes interfaces beautiful
When we say "
UX makes interfaces useful
", we mean that UX creates an experience for users that helps them get things done in the most efficient way possible. That could be something as simple as making sure there are plenty of links on a website so people don't have to guess which ones will help them find what they're looking for; or as complex as finding ways to make sure someone can use your software without having to read your entire manual first.
​
And when we say "
UI makes interfaces beautiful
", we mean what colours are used in its background, what typefaces are used in its text descriptions and buttons, and whether those colours and fonts complement each other nicely or clash horribly with one another. It's all about ensuring that your interface looks good enough that people enjoy using it because of how sharp and polished it looks.
#2. UX helps users accomplish goals, and UI makes emotional connections
Suppose you're designing a website for people who want to book flights. In that case, your UX designer will ensure that your booking system is simple and straightforward; and that it's not confusing or difficult for people to find what they need quickly and easily. Or they might design an app where customers can get updates on their flight status without having to log in every time they want to know if their plane has landed yet.
​
UI is all about making emotional connections between users and your brand/website/app. It's about creating an environment where people feel comfortable while they're using your product, so they can feel like they belong there; like it's where they should be spending their time.
#3. UX design is done first, UI design is done second
UX design is the process of creating a user-friendly experience for your website or app. The UX designer will begin by researching the users and their needs, then creating wireframes that illustrate how the product should function.
​
Once the wireframes are complete, they will be handed off to the UI designer, who will then create mockups based on the wireframes and make them look aesthetically pleasing.
#4. UX is employed across products, interfaces and services; UI-only interfaces
UX is concerned with how users interact with your product as a whole—how they move from one part of it to another and what their overall experience is like.
​
The ideal UX design is one that addresses the pain points of your target audience, whether you're a counsellor selling services or a clothing brand selling kids' clothes and accessories.
​
UI is nowadays not just limited to phones, tablets and laptops. You can appreciate an interface of a car dashboard, washing machine, refrigeration or a watch too.
Understanding the Roles of UX and UI Designers
UX designers and UI designers are both highly skilled professionals, and while they may share similar tasks, they have different responsibilities. Let's take a brief look at the roles of UX and UI designers.
What Does a UX Designer Do?
The roles and responsibilities of a UI designer are:
Solicit feedback from users to identify what is working well and where improvements are needed

Create prototypes or wireframes that demonstrate how the product or service will function visually

Design user interfaces for mobile devices, websites, desktop applications, or other types of software

Researching usability best practices, working with developers on implementation

Test their designs with real users in order to refine them
What Does a UI Designer Do?
They're responsible for determining how a user will interact with the product and how that interaction will feel, as well as what data is collected from those interactions.
​
UX designers work closely with data scientists, project managers, and business analysts to create products that are easy to use and understand. They help guide projects by asking questions like "What does this button do?" or "How can we make this process more intuitive?"
​
They also make sure that the final product meets customer expectations by testing it on users throughout the development process.
Skills required to become a UI and UX Designer
To enter these fields, you'll need to learn the following skills.
UI Skills
UI designers need skills such as:
An understanding of visual design tools such as Photoshop, OmniGraffle, and Illustrator

Expertise in user psychology and behaviour, especially when it comes to interfaces

Experience with visual communication techniques, including typography, colour theory, and layout

Experience with front-end coding languages like JavaScript, HTML, and CSS to develop prototypes

A knack for problem-solving
UX Skills
The skills required to become a UX designer are:
Strong collaboration skills with the members of different departments.

Deep knowledge of design principles and best practices

The ability to use data and analytics to inform design decisions

They should know HTML, CSS, jQuery and JavaScript; the languages used to create web pages

Knowledge of Adobe InDesign, Illustrator, InVision, and Zeplin tools used by product development teams
How do UX and UI Designers Work Together?
UX typically focuses on the user's mental model—how they think about and interact with the product. Designers can gain a better understanding of how users feel about the product, what their goals and pain points are, and how to address them. This information can then be fed into UI design so that the interface is attractive and intuitive for users. The two work together to create a seamless experience for users.
UX vs. UI: Tools
Here is a list of top UX/UI design tools that help designers get their work done easily.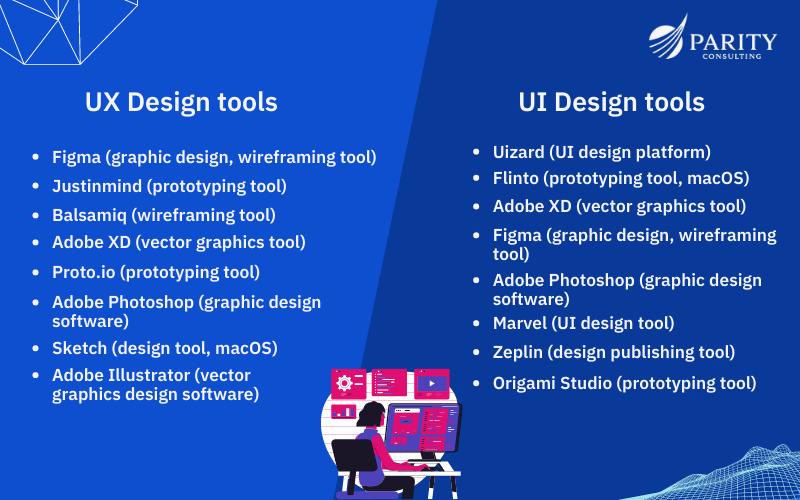 ​
Final takeaway
With this knowledge, the trials of finding your first job should be easier, as well as future job searches if you choose to transition between fields. The important thing is to learn to utilise these skills in your own unique way and expand them in the areas you enjoy most.
​
Ai Iwami
is a Marketing, Communications and Digital Specialist Consultant at Parity Consulting, beach lover, margarita drinker, and mum to a toddler and cat. Ai specialises in placing professionals in Marketing, Communications, and Digital roles across wealth management. She can be contacted at
aiwami@parityconsulting.com.au
or +61 451 193 774 for a confidential discussion.
​