Thanks for downloading Parity's Salary Guide & Prediction for FY2023-24 for Job Seekers
You can access it any time via the link below.
Download the Job Seeker Guide here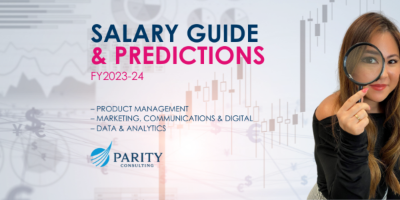 ​
Join Us at a Parity
Plus
Event
Tailored for you, we aim to support your career goals and share industry learnings. We do so by investing 10% of our profits each year to value-add initiatives and partnerships – a first of its kind facilitated by an Australian based recruitment company specialising in Product Management, Marketing, Communications & Digital, and Data & Analytics.
Find out What's Coming Up Next
​
Need Help?
If you need help filling a role or finding your next dream job – Reach out to our team today!
Or check out Current Vacancies here.