Have you been asked to make an introduction to someone and unsure how to approach it which will set them both up for success? Too busy to spend too long thinking about it? What is the appropriate tone? Do I call first?

The important aspect to get right is highlighting the benefit of the introduction for both parties. Therefore, whenever I am asked to introduce someone, I will question what they would like to achieve and what they can contribute. This is not always easy for someone to articulate however I request it before making the introduction to ensure the meeting is set up to be a success.
​
Things to consider when introducing a colleague
When introducing two professional colleagues, it is important to take into account each person's background and area of expertise. For example, if you are introducing a Marketing Professional to a financial analyst, you might want to mention the person's experience in helping companies expand their operations. (like I did in Mark's case in the template mentioned below)
On the other hand, if you are introducing a bookkeeper to an accountant, you might want to focus on the bookkeeper's attention to detail and excellent organizational skills. By taking the time to tailor your introduction to the individual strengths of each person, you will help ensure that the meeting is productive and interesting for everyone involved.


New Employee Introduction: The Best Email Template
Below is a succinct and highly effective introduction template:
​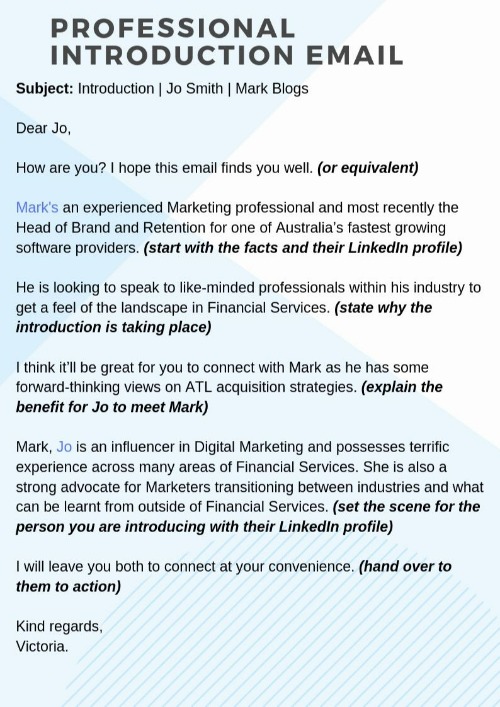 ​
I hope this template can provide some assistance when you are introducing your fellow colleagues and friends to a great new contact!
About the Author:
Victoria Butt is the Managing Director and Founder of Parity Consulting, recruitment experts in Product, Pricing, Digital, Marketing, Communications and Data Analytics – creating parity by investing in ALL relationships. An avid shark diver and lover of wine, professionally Victoria's passionate about leadership, inclusion and diversity in the workplace and empowering women, in particular women looking to return to work after having children.

For a confidential discussion, Victoria can be contacted via email on vbutt@parityconsulting.com.auor via phone at +61 402 418 326