At any point in your career, you may feel as though your job is at risk. Maybe you were passed over for a promotion, or the company is downsizing, and your position is no longer required. If you are feeling uncertain about your future in your current role, it's time to take some action.
Found Yourself Out of Work? 10 Ways to Bounce Back
Follow these 10 ways to bounce back after losing your job:
1. Update your resume
Have your resume ready to go. Use a consultant to help you curate one who sells you well, or you can simply spruce it up by buying an excellent resume template from Etsy! Be mindful of where you're sending your resume and ensure it fits the type of organisation!
2. Networking is the key.
Refresh your networks and be purposeful with your/others' time. Networking is not a numbers game and must be treated like any other meeting you attend. While it does not need to be formal, it does require a purpose, plan and outcomes – even if it's in your mind.
3. Focus on your current job
Focus a good proportion of your time internally. The chances are that you'll be redeployed internally or will pick up an internal project which will require your unique skill set. Therefore, showing a positive and committed mindset is incredibly important regardless of what occurs. Your colleagues will never forget you for how you left a business and not for how you started within a company.
4. Take a break
Your mental state will directly affect your ability to sell your skills successfully. Whether it's two days or two weeks, it's imperative to gain clarity about your skills and what you want to do. This market is about quality applications rather than quantity!
5. Leverage out-placement services
If you do take a redundancy, it's worthwhile investing in the out-placement services offered. When you reach a senior manager level or above, these services may not be appropriate for your level, so do ask for the budget to be invested into a career coach instead. This is at the discretion of senior management as to whether this is feasible.
6. Question Yourself Before Applying for a Job
Avoid applying for roles on job boards, especially if you don't fit most of the criteria. Unfortunately, recruiters (internal or external) have more demanding clients than ever and are becoming harder pushed to look at left-field applications given new cost pressures. If you do not have most of the required skills and experience, call the recruiter directly before applying.
​7. When making a decision, don't rush
When you lose your role, it's tempting to make decisions quickly in order to move on with your life. However, rushing into things can often lead to regret later on. Instead of rushing into a new job or making any major life changes, take some time to really think about what you want and what's best for you.
​Talk to friends and family, do some research, and make sure you're making the best decision for yourself before moving forward.
8. Take some courses to enhance your skills
​There are plenty of great courses out there that can cater to your specific needs and interests.
Taking courses can help you in a few different ways. First, it can give you something positive to focus on during a tough time. Second, it can help you develop new skills that may make you more appealing to potential employers in the future. And third, it can boost your confidence and help you feel more prepared for your job search.
9. Get in touch with a Specialist Recruiter
Recruiters may be aware of companies that are hiring for your exact skill set. They can also provide you with valuable insight and advice on how to best navigate the job market after being laid off.
​Additionally, many recruiters have established relationships with hiring managers, it will help them vouch for you.
10. Your mental health is important
After losing your job, it is important to keep your mental health in check. Here are a few tips on how to do that:
​Don't dwell on the past. It's important to focus on the future and what you want to accomplish.

Get back into a routine as soon as possible. Having a routine will help keep you organized and focused.

Don't be afraid to seek counseling or therapy if you are struggling mentally after losing your job.
​​
Things to remember
There are some things to know when going out in the market again. Let's take a look at them:
​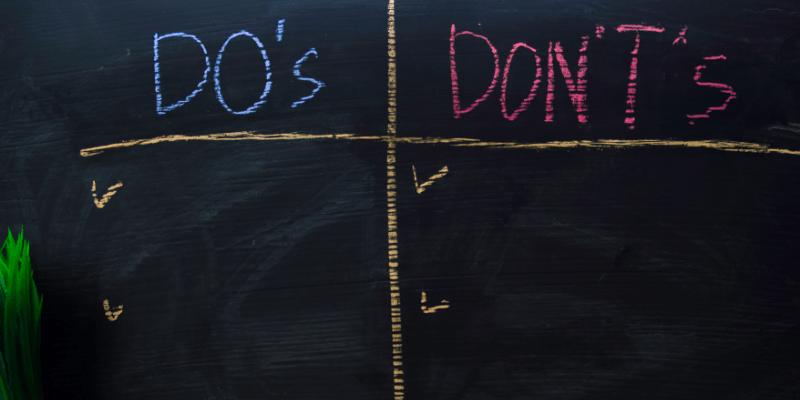 Dos
Assess your household budget against your severance package and unemployment benefits to determine where you stand financially.

Inform potential employers about what you are on the market again with a simple and exact explanation.

Put yourself in the company of positive people if you want to move forward.
​Don't
Search for a job instantly. Reach out to thought leaders in your industry and ask for some opportunities.

Ignore your health — Keep your wellbeing in check by eating healthily, exercising, and sleeping well.
​
How does Parity Consulting help you?
My consultants hardly advertise their roles and will often have a list of candidates in mind who are suitable for the roles at the initiation of each vacancy. Therefore, get to know specialised recruiters and build a strong relationship with them. My team would be delighted to assist you if you are in Product, Marketing, Comms, or Digital.
Whether you are on deployment, out of work, or fearful of your role being made redundant, it can be a very unsettling place to be and one which can bring out undesirable behaviours and feelings. The key is to look after your mental health, trust your skills and abilities and surround yourself with great people who can assist you.
Don't let work define you or your confidence – 2022 is a new year where you can control your destiny.
About the Author
Victoria Butt is the Managing Director and Founder of Parity Consulting, recruitment experts in Product, Marketing, Communications, and Digital – creating parity by investing in ALL relationships. An avid shark diver and lover of wine, Victoria's professionally passionate about leadership, inclusion, and diversity in the workplace and empowering women, particularly women looking to return to work after having children.
Parity Consulting works with clients who embrace diverse and inclusive environments and empower their teams to bring their whole authentic self to work. We encourage people with different beliefs, abilities, backgrounds, and life experiences to contact us.