Digital Marketing
​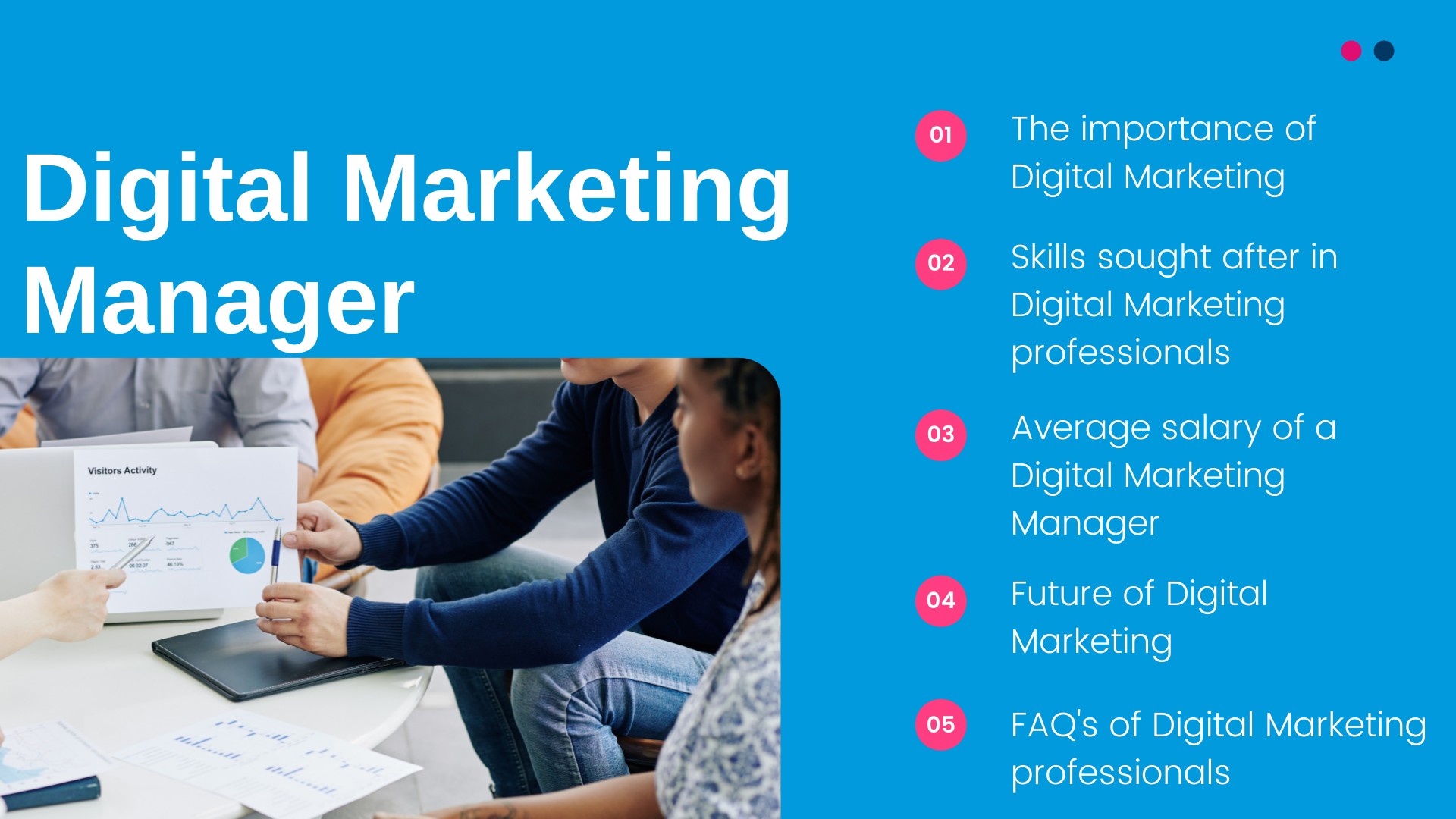 ​
The Importance of Digital Marketing
All organisations know how vital digital and mobile channels are today for acquiring and retaining customers given all customers are now online. Digital marketing ensures businesses reach a larger and/or targeted audience than is possible through traditional marketing methods. Digital marketing includes everything from search engine optimisation (SEO), search engine marketing (SEM), user experience, understanding of personas and customer journeys, and the development of creative content across websites, apps, and social media.
​Digital marketing responsibilities may include several all of these below:
Performance marketing

Paid media / pay per click

Social media

Digital content working across multiple channels such as web, app, and mobile

Lead Generation

Web Optimisation

UX / UI

Customer Experience

Marketing Automation
​
What skills are sought after in a Digital Marketing professional?
​There are a number of necessary skills a digital marketing professional should have under their belt. Some of these include understanding of digital strategy, data analytics and insights from these, content creation, optimisation, mar-tech knowledge, and social media to name a few.
​
Some other soft and hard skills may include:
Soft Skills

Hard/Technical Skills

Communication

Creativity

Writing

Interpersonal skills

Attention to detail

Stakeholder Management

Influencing / Negotiating skills

Web page optimisation

Data Analysis and Insights

Lead Generation

Marketing Strategies

Adobe / Google Analytics

CRM and CMS systems

Salesforce

Marketo / Pardot / Hubspot
For more on what skills are highly sought after by organisations in 2022, visit our recent thought piece - Top 25 Skills Digital Marketing Managers should have in 2022
​
What is the average salary of a Digital Marketing Manager in Sydney and Melbourne?
According to our FY2021-2022 annual Salary Guide and Insights, the average salary for a Digital Marketing Manager in financial services in Sydney and Melbourne can range from $120-$150k base. This however is dependent on the role responsibilities and area of focus - for example, a digital marketing professional who is an SME in a certain niche space may command more than a generalist digital marketing manager.
​For further details and insights, including what factors can affect a Digital Marketing Manager's salary and benefits, including effects of Covid19 and the push for remote working, refer to our latest Salary Guide and Insights for more information - click here to access the full Salary Guide and Insights
​
What is the future of Digital Marketing?
It is safe to say that digital marketing will only continue to grow. We can expect to see an increase in the variety of ways customers want to engage with organisations and how they expect to access information and purchase goods and services over time.
​SEO, data analytics, and AI have become part of the digital marketing landscape. As AI evolves, businesses will automate more digital processes and make informed business decisions based on data analytics insights. It is such an exciting area to watch and participate in given how fast technology is advancing.
​
Frequently Asked Questions by Digital Marketing Managers
​
​Q: What is the demand for Digital Marketing expertise in Australia?
A: The demand for digital marketing professionals across the financial services industry in Australia has increased significantly in the past few years spurred on by the Covid-19 global pandemic.
There is strong demand across all digital touch points including content creation, social media, app and platform management where professionals are being asked to execute email campaigns, SEM and SEO, paid advertising and use CRM programs to put in place loyalty programs.
Q: What are the salary ranges for Digital Marketing professionals?
A: Digital marketing professionals are commanding more in terms of salary compared to a traditional marketing manager. See our most recent Salary Guide and Insights for more information.
To download our full FY2021-2022 Marketing, Communications and Digital Salary Guide and Insights, visit: https://www.parityconsulting.com.au/blog/2021/07/fy2022-salary-guide-and-insights-marketing-communications-and-digital
Q: How can I advance my career in digital marketing?
A: You can advance your career in digital marketing by staying up to date with current trends within the space and your specific industry. Where there are specific skills that are in demand, seeking to learn about these will ensure that your skills remain relevant.
​
Q: What are the different types of roles available within Digital Marketing?
A: Performance Marketing Manager, Digital Marketing Manager, Digital Growth Specialist, Social Media Specialist, Analytics and Insights Manager, SEO manager, Head of Digital, Website Optimisation Specialist, Community Manager, CRM Manager.
​
Looking for next role in Digital Marketing?
​
​Parity Consulting is the partner of choice for many Financial Services, Software, FinTech, eCommerce, SaaS, Platforms, and Digital organisations when it comes to looking for specialist marketing, communications, and digital talent to support and grow their teams.
​For a confidential discussion about current opportunities, intel on what is happening in the market, and how we can assist your next career move, contact one of our Marketing, Comms, and Digital consultants today!
​
​