19th May, 2021
​Third up in our
Parity

Picks event series is

Nicole Mathias-Browne

! As you would probably know by now, this event series highlights executives not only for their career accomplishments, but also who they are inside. This episode sees one of our Senior Consultants,

Vanessa Lalani

, baking a cake with Nicole while discussing personal and professional topics.
About Nicole and Vanessa
As Head of Marketing at Colonial First State, Nicole leads the marketing function which spans brand, sponsorship, marketing, communications, content, events and operations. Nicole is responsible for setting the strategic direction for the brand and the end to end marketing program to drive growth and engagement across all customer groups. Nicole joined Colonial First State in 2012.
Prior to joining

Colonial First State

, Nicole held marketing and communications roles at ING Australia, AMP and MLC specialising in superannuation, investments and insurance. Nicole is a commercially focussed marketing leader with a proven track record of driving change and building engagement across teams. You can read even more about Nicole

here

.
Vanessa is a Senior Consultant at Parity Consulting, Mother, Wife, bike rider, avid reader and volunteer at
Gift of Bread
. She has worked in the financial services industry for over 15 years and is known for building strong connections and relationships with both the Clients and Candidates she works for. Being responsible for matching great talent with the best companies is what she loves to do
.
​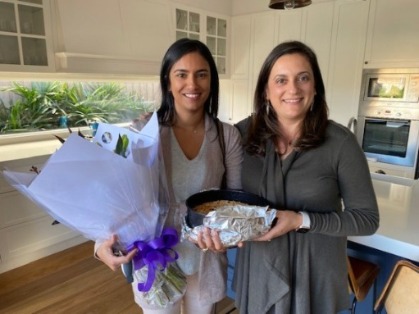 ​
The interview (and cake baking!)
Have a look at some of the highlights Nicole gave us during the interview!
​
In this first clip, Nicole shares her experience with approaching mentors and how they can be used valuably.
​
​
Here Nicole discusses the philosophy she lives by at work - with inspiration from JFK himself!
​
​
​
Advice to Young Female Professionals
As a successful female in the corporate world, we picked Nicole's brain about how she got to where she is and what steps others who want to get there can take.
​
​
Take in all the insights that Nicole was so generous to give. We are sure there is something for everybody in this 25 minutes of gold!
​
​
​
For highlights from our first two instalments of Parity Picks see below:
​
Don't forget to follow us on LinkedIn to be the first to know about all of our Parity Plus events, news and initiatives! Contact us on +61 2 8068 2016, +61 3 9088 0327 or events@parityconsulting.com.au.
​