23rd February, 2021
Next cab on the rank in our Parity Picks series of events was

Justin Howell

- Chief Operating Officer at Pendal. As part of this series of events we showcase and hear from some of the top performers in the industries we work in. This will feature industry thought leaders that will give insight on current trends and topics as well as their own career background - but with a TWIST!
For this event, we had the pleasure of hosting Justin Howell, Chief Operating Officer at Pendal. Victoria and Justin talked all things relating to work, personal life, mental resilience and more
whilst completing a spin workout!
About Justin and Victoria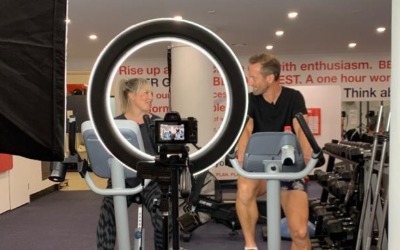 We are excited to introduce you to Justin Howell! He is a down-to-earth, honest, and inspiring leader. While he is a family man at heart, he also has the passion and drive for the work he does as COO at Pendal. Speaking wisdom beyond his years, Justin gave us profound yet light-hearted and fun answers to our most pressing questions. We can't wait for you to be impacted by his energy as we were, and make sure to read about his background if you haven't already!
Victoria is not only the Founder and Managing Director here at Parity, she is also a thought-provoking leader, wife, mother, and blogger. She is passionate about equality not only in the hiring process between the client, candidate and consultant, but also in supporting working parents on their return to the workforce. Victoria believes in life by design and has become extremely well-regarded in the recruitment space.
The Interview (and spin workout!)
Here are some of our key highlights from Justin during the interview:
In this first clip, Justin gives us his view on the value of mentors, in particular how valuable they are to up and coming young professionals:
​The Philosophy Justin lives by at Work
Justin reflects back on time he spent collaborating with a professor from Stanford in the US - something that has always stuck with him is the catch phrase to "always play the long game":
​
Justin's Personal Philosophy
Family First - Work Second. Justin shares how he manages to put his family first whilst still achieving his professional success:
​
Full Video Interview & Spin Workout!
We are sure you will find many motivating, relevant and stimulating pieces of brilliance in this interview, along with lots of laughs! Have a look and let us know what you think!
​
​
​
For highlights from our other Parity Picks instalments, see below:
N

icole Mathias-Brown - Head of Marketing @ CFS
Don't forget to follow us on LinkedIn to be the first to know about all of our Parity Plus events, news and initiatives! Contact us on +61 2 8068 2016, +61 3 9088 0327 or events@parityconsulting.com.au.